Résumé Writing Services, New York, NY
New York City brings thousands of hopeful employees to its boroughs each year. The city that never sleeps is home to many job opportunities in any almost industry you can think of. Shifts are available day and night. New York is also an extremely competitive job market, with many fresh-faced and qualified applicants submitting résumés from all over the country.
If you're looking to land a job in New York, you must be able to stand above the rest of the applicants. That's why you need help from a New York professional résumé writing service. Spring Forward Résumés helps applicants put their best feet forward by delivering top-quality résumés, cover letters, and other professional documents. We cater to all levels of employment, whether you're a recent college grad looking for your first job or an experienced professional looking for a change. We specialize in transitional résumés, curriculum vitae, entry-level résumés, and more.
Why You Need a Professional Writing Service
There are many reasons why you would benefit from a professional writing service. Some of the most common include:
We help you stand out.
Hiring managers are busy people, and they decide on your résumé in four seconds or less. If you don't have the right skill set immediately visible, your résumé could end up in the recycling bin. At Spring Forward Résumés, we use our industry experience to identify the skills hiring managers look for – and get your name in the interview pile.
We make you sound better.
Some people struggle to land interviews for a simple reason: Writing simply isn't their forté. A professional writer can market your skills effectively and communicate what makes you an ideal candidate.
We optimize your résumé for search.
Technology has streamlined job searching and recruitment. Human resource managers use applicant tracking systems that look for certain keywords while identifying ideal candidates. We help make sure your résumé gets through the ATS and into a hiring manager's hands.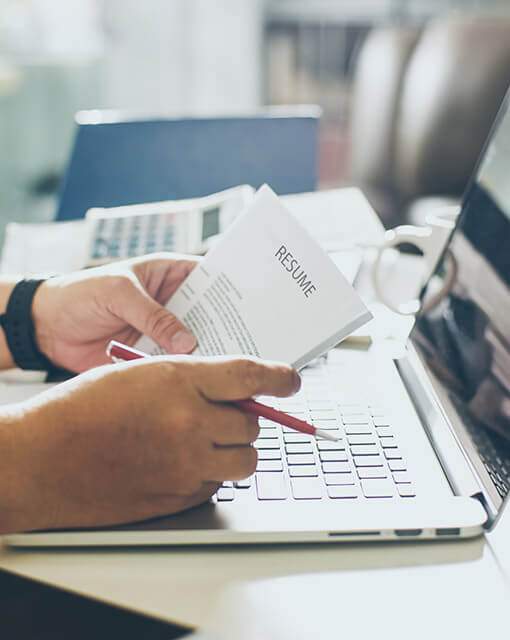 At Spring Forward Résumés, we're committed to making your job hunt a success. We use our industry experience to cast your skills and experience in the best possible light, maximizing your chances of landing the New York City job of your dreams.
If your New York job search isn't turning up results, it's time to take the next step.
Make an investment in yourself and your professional career by hiring a résumé writer.
The New York Job Market
Job seekers often move to New York City for its plethora of job opportunities and to grow their professional skill set in a variety of fields. New York is the publishing and financial capital in America. It's also home to many other Fortune 500 companies, including Verizon, PepsiCo, Citigroup, and Morgan Stanley. Economic growth in the city is strong, and unemployment has been on a steady decline since 2008.
Median pay in the city is much higher than average – at $60,108 compared to the national average of $48,320. The unemployment rate echoes the national average. There are plenty of jobs available around the city, both in the public and private sector.
The public sector offers the most employment opportunities to New Yorkers. New York City is the biggest employer, with nearly 150,000 employees. Other top employers include the Metro Transit Authority (67,000), the New York City Department of Education (~120,000), and the United States government (~50,000). In the private sector, Wall Street professions dominate, with Citigroup and Morgan Stanley leading the charge (each employs around 25,000 people).
New York is also a good place to be if you're a creative professional. As the publishing capital of the country, it's home to big names like Penguin Random House, Hachette Book Group, and Harper Collins.
Highest Paying Jobs in New York City
New York has one of the highest costs of living in the United States. If you're considering a move, you'll want to make sure that your job can cover your bills and leave you with a little extra for saving and leisure. According to a 2017 analysis of median pay throughout the city, the highest paying professionals in New York City are:
Attorneys. A general counsel for an individual or a company is the highest paying job in the city, with a base salary of $124,676 a year.
Pharmacists. They come in at number two, with an average salary of $121,035.
Technology. If you want to make money in New York City, consider being a solutions architect, which falls under the technology sphere. These professionals make an average of $117,394.
Tax managers. These are one of the highest paid jobs in the city right now, with an average base pay of $115,869.
Data scientists. Some of the highest paid at $112,974, and also one of the fastest growing professions, with 3% growth in 2017.
Professors. New York is a good place to be a professor, with an average base pay of $109,498
Other highly paid professions in the city include consultants, product managers, software engineers, and program managers. If you're willing work hard, there's a job in New York perfect for you.
New York City is a high-paying, yet competitive job market.
Spring Forward Résumés helps you put your best foot forward by leveraging our 15 years of industry experience. We use our professional writing and editing experience to create documents that highlight your relevant skills and experience. Our clients include people from all walks of life, from entry-level professionals to executives and high-level employees craving a change.
Land the job of your dreams in the city that never sleeps.
Get help from a professional résumé writing service.
Here at Spring Forward Résumés, we know that every job search is different. That's why we offer completely customizable solutions that meet your needs. After an in-depth consultation, we'll design documents based on your goals and career history. Then we'll tailor them to meet your objectives. We help you create a professional brand that will serve you as you launch or advance a career in any field.